Published on
My Homelab 2023
3 min read
Authors

Name

Chris Ostrouchov

Twitter
Over the past few years, I have been building up a homelab setup including security cameras, networking equipment, and dedicated machines. This post is a summary of this process over the past 3 years. I hope to provide these updates more frequently.
Cat6e Ethernet
When we moved into our mid-1950s home, as you might expect, there was no existing ethernet. I will likely write about some of my other home projects, but this was one of the first big projects my wife and I completed. In all, I ran about 750ft of Cat6e cabling. This wiring was enough to provide 2 ethernet jacks per room, run wiring through our attic to supply 5 PoE cameras, and have 2 wireless APs from Unifi. Several tools were indispensable:
powerful drill with a long (6+ inch) drill bit
network and cable tester
Cat6e crimping tool for male connectors
wire cutter
Cat6e cable (buy in bulk not at box stores)
magnetic cable puller (if you need to run cables through exterior walls with insulation)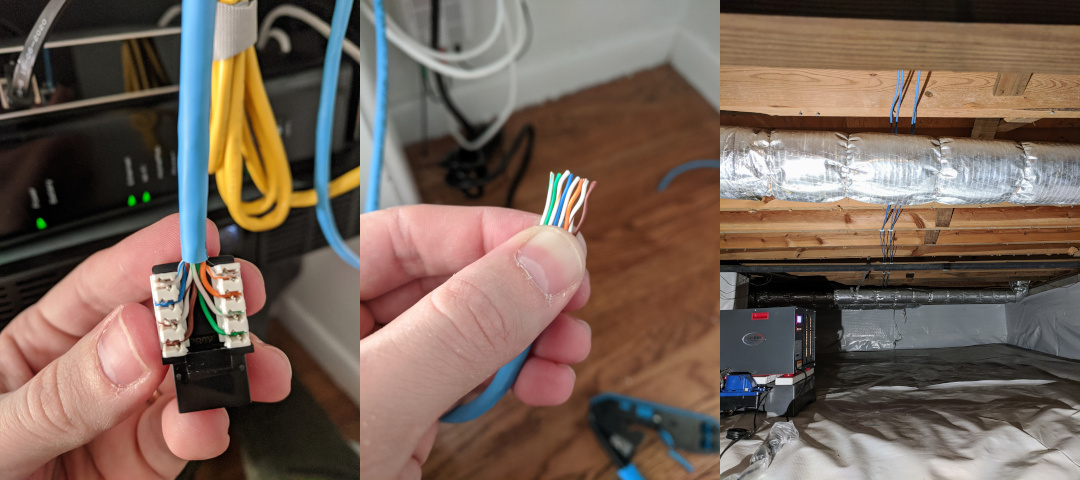 Fig 1: 750ft of Cat6e runs throughout the house
I didn't keep the receipts, but this project in total cost about $600 and several weekends time-wise. I consider the cost well worth it, since a majority of our devices are now wired. Additionally, we are using ethernet and Power over Ethernet (PoE) to power wireless access points and cameras where running low voltage power would have been difficult and more expensive.
Networking
Since the networking cabinet is located in an interior closet within the home, it needs to produce minimal heat and noise. A solution is to purchase all fanless components, which are low power.
We are currently using AT&T Fiber for our ISP, which somehow provides 1 GiB download and upload at a reasonable cost. I've yet to find another provider that provides symmetric 1 GiB in my local area. One major downside, though, is that they require their proprietary modem/router combo to be used (middle left in Figure 2).
To compensate for the shortcomings of the AT&T router, I run a pfSense fanless pc similar to this one posted on servethehome. The best part about this router is that it automatically starts back up when the power goes out; for the most part, I've forgotten about it.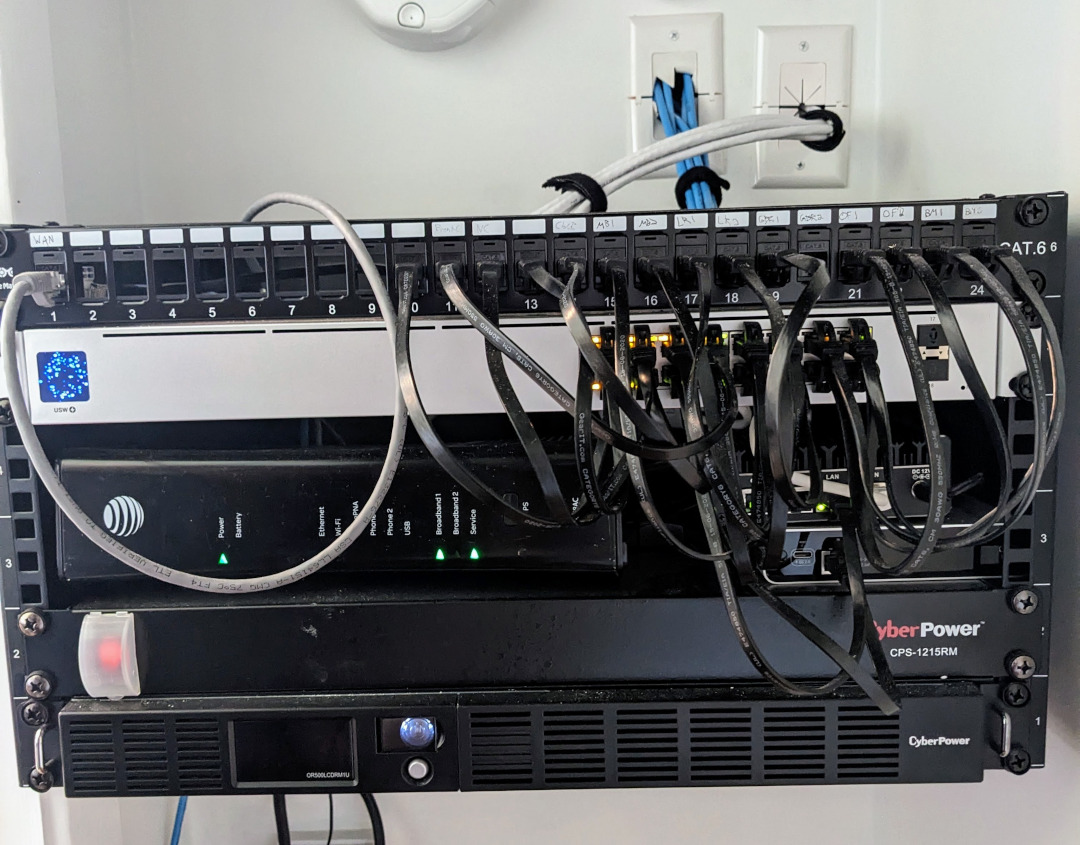 Fig 2: Central networking
We have two UniFi devices for operating our UniFi cameras:
I have wired the entire home for 10GiB, but I am still waiting on a lower power fanless switch for that use case.
Finally, I installed a power backup UPS 500VA, which is enough to power the equipment for 30 minutes in the case of a power outage.
Data Center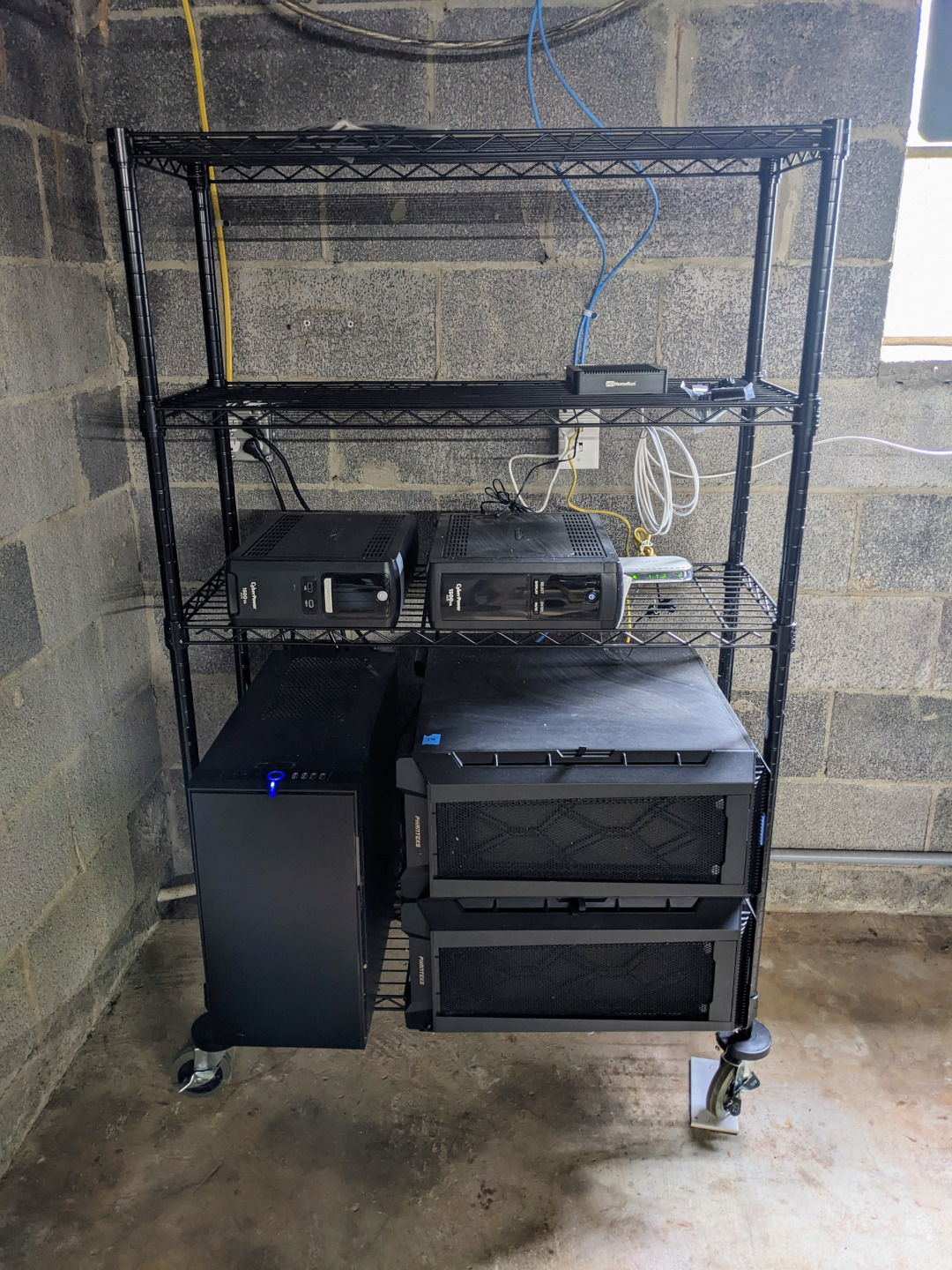 Fig 3: "Data Center" in basement
Software